LF Gaming™ Portable Seat Cushion Quick Ship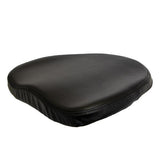 The LF Gaming Portable Seat Cushion is made of pressure and temperature sensitive memory foam, which reduces pressure and improves circulation. Its ergonomic design corrects your pelvic angle, promoting healthy posture and maintaining the natural curvature of your spine, alleviating back pain and discomfort.
Features a pre-cut removable coccyx (tail bone) cut out for those who suffer from sciatic nerve, broken/bruised tailbone, herniated disk or any other issue you may have in the coccyx area. Instantly removes and relieves the pressure from seated discomfort.
Therma-Guard Temperature Regulating Technology – Phase Change Materials (PCM's) prevent the seat from overheating. Lasts throughout the lifetime of the product. Long-term temperature regulation offers immediate, ongoing, measurable and noticeable results.
Therma-Guard prevents you from overheating.

3D Stretch Knit Fabric designed to allow the memory foam to conform to your body, which allows you to play in complete comfort.

Waterproof non-slip backing keeps the seat where you put it.

Convenient Carry Handle for easy transport.

Limited 2-Year Warranty*
*Surface washable only, warranty will be void if cover is removed. Caution: Non-slip backing color may transfer to some fabrics – check for color fastness on your materials before prolonged use.
Made in Canada
LFG Seat Cushion is ideal for making your existing seat more comfortable. Light weight and portable; take it with you anywhere you go.